BLACK GRANITE COUNTERTOPS PROS AND CONS
Granite is exceptionally hard-wearing through having been formed over millions of years from the compressed molten rock under the Earth's surface. It is markedly superior to marble and laminate and unlikely to blister, crack, or chip.
Durable, low maintenance and stain-resistant are among the top reasons why granite has remained a popular choice over the last five decades. The benefits of black granite far outweigh the cons. We'll examine both for you to discern whether or not this beautiful stone is a viable match for your project.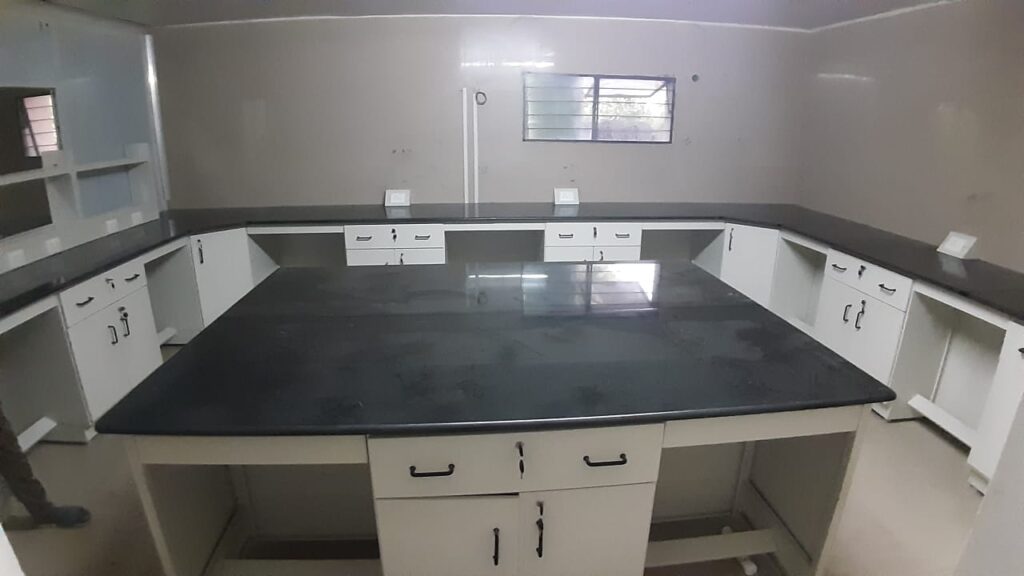 The construction industry classifies black granite as black rocks that share the hardness and strength of granite rocks. Geologically, black granite may be composed of gabbro, diabase, basalt, diorite, norite, and anorthosite.
Most black granite contains at least 20% quartz and a significant amount of gabbro. Gabbro is a coarse-grained rock composed of the minerals pyroxene, plagioclase, and small amounts of olivine and amphibole.
Black granite has lower density quartz content and a higher proportion of dark minerals with ions and other metals; therefore, it is much denser than other igneous rock types. Typically, Black granite countertops come in two finishes; honed or polished.
With honed granite, the polishing process ends before the granite slab is buffed to create a matte or low-gloss sheen look. Honed granite does not have a highly reflective surface, nor is the natural stone's detail as noticeable. Honed granite offers a softer finish that works if you desire a casual or aged look.
Polished black granite reflects light with its glossy, mirror-like shine. Its shiny surface is created by buffing the stone with fine polishing pads. The polished surface appears smooth and flawless, and the stone's color will look richer and darker. Both countertop finishes require sealing, so choosing between honed or polished black granite depends on your interior design choices.
BLACK GRANITE PROS AND CONS
Beyond matters of personal taste, all countertop materials have their pros and cons, and black granite is no exception.
Black granite countertops suit traditional, transitional, and contemporary kitchen designs. Whether it's a dramatic kitchen island with a waterfall edge or a countertop ogee edge profile, there is almost no design choice that black granite can't accommodate. See more design ideas with black granite in our post.
One of the considerable advantages of black granite is its durability, which is highly favored in high-traffic areas like kitchen and bathroom countertops. As an igneous rock formed under extreme duress, it is capable of withstanding everyday wear and tear. When looked after, granite can last a lifetime and add significant resale value to your home.
Black granite is an intelligent choice as dirt doesn't show up as easily on its dark surface. Besides that, cleaning black granite countertops is relatively easy. Warm soapy water with a gentle cloth after use will suffice, so long as the counter is also wiped down with a dry cloth. Granite is porous, so leaving liquid or food spills unattended can cause damage, especially with honed black granite.
Black granite is stain resistant if properly sealed and looked after. If stains and spills are wiped away as soon as they occur, the countertop's surface should retain its pristine condition. While no material is 100% stain-proof, the natural hardness of granite provides enhanced protection.
Prone to Fingertips and Water Marks
Fingertip marks are most visible on polished granite, particularly when light hits the surface, whereas honed granite may discolor or stain from watermarks. However, this is easily remedied with resealing every few months. As with all-natural stone countertops, placemats, trivets, coasters, and chopping boards should habitually be used.
Built-Up Dust is Noticeable
Because of its glossy surface, dust is more noticeable on polished than honed granite. Built-up occurs if a countertop isn't regularly wiped down. Luckily, dirt is less visible on black granite countertops, but it should be cleaned after use to clear collecting dust.
Built-Up Dust is Noticeable
Because of its glossy surface, dust is more noticeable on polished than honed granite. Built-up occurs if a countertop isn't regularly wiped down. Luckily, dirt is less visible on black granite countertops, but it should be cleaned after use to clear collecting dust.
While black granite is more affordable than white, it can still be a pricey investment. Additional factors like the amount needed and the type of granite purchase can also hike up the cost. Remember, a cheaper grade of stone may not be as durable as its more expensive counterparts. In this case, it pays off in the long run to buy a higher-quality slab.
MOST POPULAR TYPES OF BLACK GRANITE COUNTERTOPS
At Granite Selection, the most popular black granite colors tend to be those with the most versatility; consistent flecks and veining without contrasting too drastically with stone's base color are ideal for those wanting a countertop that doesn't date and adds to the resale value of their home.
On the flip side, those who want to transform their granite countertops into a design statement will opt for black granite with bold white veining that mimics marble or golden flecks that sparkle in the light such as Black Forest granite. It's truly dependent on style preference, design, and intention.
Black granite is a superb countertop choice, regardless of the type you choose. The advantages of this sophisticated natural stone are many and vastly outweigh the cons, which can be prevented through daily care and scheduled resealing.
At Granite Selection, we have some of the most popular black granite to choose from. As seasoned natural fabricators and countertop designers, we're more than happy to advise you on the best-suited options for your project. Call us at (91) 98409 31231 or click here for a fast quote.